Beauty & Self
Books & Music
Career
Computers
Education
Family
Food & Wine
Health & Fitness
Hobbies & Crafts
Home & Garden
Money
News & Politics
Relationships
Religion & Spirituality
Sports
Travel & Culture
TV & Movies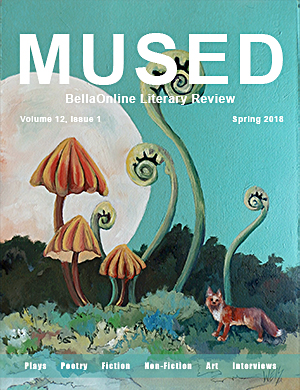 It can seem sometimes as if our world is whirling faster than we can keep up with. It can become overwhelming. Exhausting.

A balm which rejuvenates is to explore the creative efforts of individuals around us. To begin, turn off the noise and clatter of the world at large. Take a deep breath and instead focus on connecting with one fellow human being who presents their jewel of a thought to you. Examine it mindfully. Consider its meaning. Soak in the moment with this one human. Then connect with another. And another.

Enjoy the Mused Spring Equinox 2018 Issue



Trifetta and Tricolore Garden Ornamental Peppers
Landscaping - Connie Krochmal, Editor

Trifetta, Purple Flash, and Tricolore Garda are all wonderful ornamental peppers for the home garden.




INTERVIEW 2 Liisa Evastina
SF/Fantasy Books - Evelyn Rainey, Editor

Second of two interviews with actress, producer, and writer Liisa Evastina.




How to Clean Glass & Mirrors
Cleaning - Tammy Judd, Editor

How to clean glass and mirrors - get some tips and tricks to use for your next cleaning adventure




Sewing Room Budget Organizing
Sewing - Cheryl Ellex, Editor

A designated sewing room or a space in a room dedicated exclusively to sewing is one of lifeís pleasures to those who sew. Along with this treasured space comes the task of keeping all things related to sewing tidy and accessible to allow for inspiration, creativity and productive sewing efforts.




Seraphim Falls
Movie Mistakes - Isla Grey, Editor

The memory of Seraphim Falls drive two men to the brink of sanity and destruction. Which one will survive? Try to find these movie mistakes in "Seraphim Falls".




How to Overcome Emotional Eating and Overeating
Nutrition - Moss Greene, Editor

Learning how to overcome emotional eating and stop overeating is absolutely necessary for successful healthy weight loss and permanent weight maintenance.


| Google+ |
E D I T O R R E C O M M E N D E D
Paradise in Plain Sight


Paradise in Plain Sight: Lessons from a Zen Garden by Zen Priest Karen Maezen Miller, is both memoir and Zen guide. Maezen Miller shares experiences repairing and tending a historical Japanese garden in her own backyard, guiding the reader towards direct insight. It is beautifully written, honest, and relevant to the modern seeker of any faith.
Turn On Your Inner Light by Debbie Mandel


This entertaining book offers easy to implement stress-management tools for 29 common life situations: techniques, visualizations and a fitness workout to get you off the couch. Take back your power and live more energetically. Donít vent - reinvent!
The Divine Home


An absolutely gorgeous home decorating book on how to decorate with spiritual objects such as santos, retablo, milagros, statues of saints, and crucifixes. Many examples of Santa Fe style and Mexican hacienda style, but also examples of homes in NYC and other places. Beautiful full color photographs everywhere. Serene, spiritual.