Beauty & Self
Books & Music
Career
Computers
Education
Family
Food & Wine
Health & Fitness
Hobbies & Crafts
Home & Garden
Money
News & Politics
Relationships
Religion & Spirituality
Sports
Travel & Culture
TV & Movies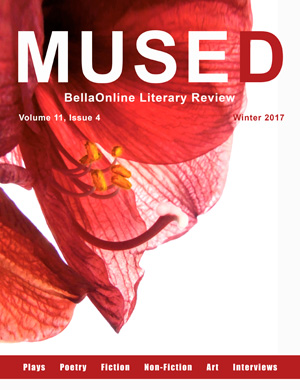 We all travel on this blue-green ball around our very own star each year, sliding a little closer, sliding a bit further away. The balance is critical. Too much closer and we'd roast. Too much further away and we'd freeze.

We should be aware of just how blessed we are that our Earth is "just right" - and do what we can to keep our world healthy. It's the only one we have.

Enjoy the Mused Winter Solstice 2017 Issue



Valentine Card Project in Rebelle 2
Digital Art and Design - Diane Cipollo, Editor

In this Creative Motions Rebelle Valentine card project, we will use 2 free stencils, import them into Rebelle's Stencils panel and resize, rotate and position them on the canvas. We will also paint the stencil with the Watercolor tool and learn how to draw lines freehand with the Ink Pen tool.




Lion's Breath
Yoga - Korie Beth Brown, Editor

Lighten up and relieve stress with this seemingly bizarre breathing exercise.




The Young Englishwoman wheel
Tatting - Georgia Seitz, Editor

From the vintage publication, The Young Englishwoman, a wheel pattern #174 is examined to modernize the directions.




Here's How Happiness Is Good for Your Health
Nutrition - Moss Greene, Editor

How can you change your mood? Here are some great tools to become a happier, healthier, more optimistic human-being, plus all the reasons why you should.




Broiled Salmon with Indian Spices
Indian Food - Sadhana Ginde, Editor

Healthy, delicious and super nutritious - my Broiled Salmon with Indian Spices is always a crowd pleaser & sure fire hit. This dish is super simple to prepare & also packed with lots of beneficial Omega 3s! This is a great dish for entertaining too, YUM :-)




Short Rows
Knitting - Korie Beth Brown, Ph.D., Editor

Looking to add shaping to your knitting? Learn how to short row!


| Google+ |
E D I T O R R E C O M M E N D E D
Simple Delicious Italian Recipes


Simple Delicious Italian Recipes. Authentic Italian recipes easy to follow and simple to prepare, written by Cinzia Aversa, Italian Food Editor at BellaOnline.com. A perfect gift idea for any Italian food lover.
Bird by Bird by Anne Lamott


A funny, unpretentious, sympathetic look at the writing life. The section on allowing yourself to write a crappy rough draft (so you can get it done in the first place) is worth the price of the book alone.
How to Write Sexy Descriptions and Sex Scenes


by Val Kovalin, your BellaOnline editor for the Romance Novels and Fiction Writing sites. This is for writers of erotic romance fiction (M/F and M/M). Part 1 gives writing advice. Part 2 shows how to write sexy descriptions about the human body from head to toe. Part 3 discusses male-male romance fiction, and Part 4 details the common elements of a sex scene.